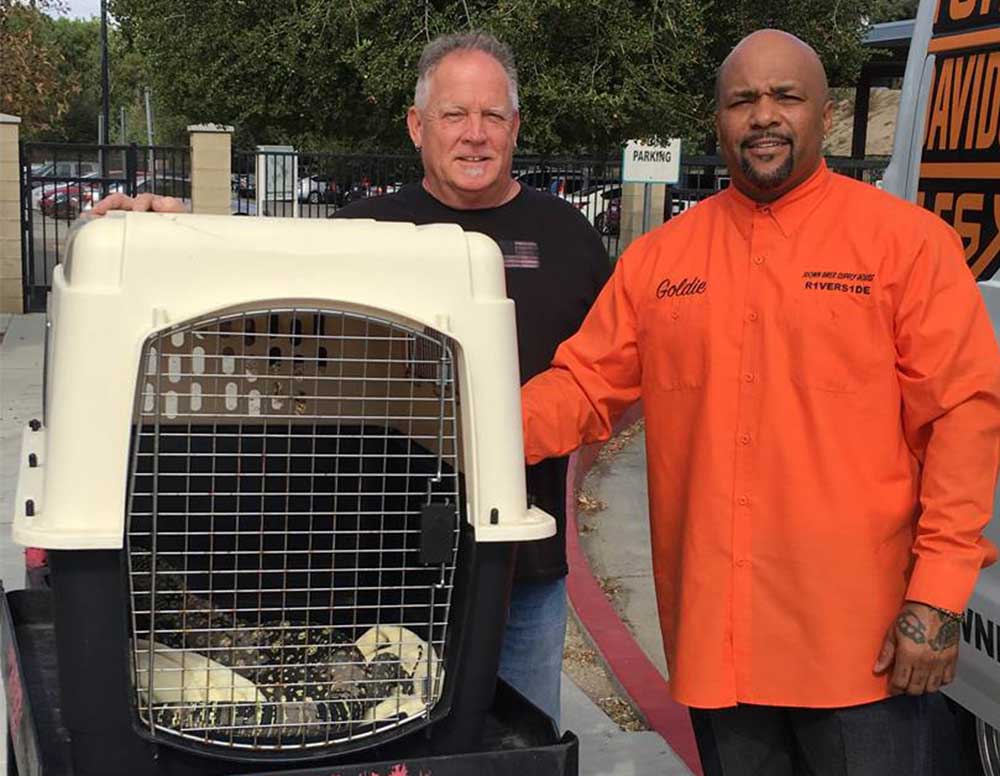 Chopper the Crocodile Monitor Heads Home
Chopper the 4-year-old crocodile monitor is now back home.
Chopper's owner, DeWitt "Goldie" Vercher, of Riverside, reunited with his scaly buddy Friday at the Western
Riverside County/City Animal Shelter in Jurupa Valley.
It was an adventurous week for Chopper. He ended up in a backyard of an Arlington South neighborhood home in Riverside's western portion of the city. Christine and J. Craig Williams discovered Chopper atop a hedge in their yard on Wednesday afternoon and called 911.
A Riverside Police dispatcher contacted Riverside County Animal Services and Officer John Hergenreder handled the lassoing duties at about 5 p.m. on Wednesday (Nov. 1).
The Williams suspect that Chopper may have been there a few days. A bird was attacked earlier in the week, and the dogs were "going nuts" another day until the couple discovered Chopper sun bathing atop that sturdy, green hedge.
Mr. Vercher said he appreciates the couple's actions in getting his pet safely removed and transported to the shelter.
"A friend of mine texted me and asked, 'Did Chopper get out?'" Mr. Vercher said. "My stomach and everything just dropped."
Chopper managed to find a "soft spot" in a large pen Mr. Vercher keeps his pet. The enclosure is 14 feet long, 9 feet wide and 8 feet high and Chopper can use a shed as a sauna. There is also a pond. On Friday afternoon, a contractor was on scene reinforcing the enclosure, "so it will never, ever happen again," said Mr. Vercher, whose pet's name pays homage to his love of motorcycles and his Riverside-based Harley-Davidson maintenance and apparel shop. (Some may recognize Mr. Vercher from the series "Sons of Anarchy." He was part of the Grim Bastards club.)
"He is a healthy eater," Mr. Vercher said of Chopper. "I take care of him very well." Chopper gets two "jumbo rats" on Wednesdays and Saturdays, he said.
"I am so happy to have him back," he said. "As soon as I heard the news that he was loose, my whole system shut down."
Short video clip of Chopper getting loaded into a crate


Earlier footage of Chopper